WHOOP! Well, at least this weekend was a little better than last for Aggie Football fans. The Princess and I actually skipped the game due to us still recouperating from being sick and all....but Big L took Big J and they had a blast! They even got to meet a hometown hero in person....#19, Jaxson Appel! WHOOP!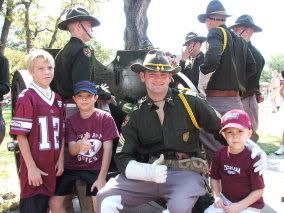 Big J (the youngest guy) along with his cousin Cole and a friend climb on the PMC canon before March In.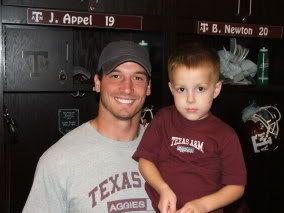 Jaxson and Big J!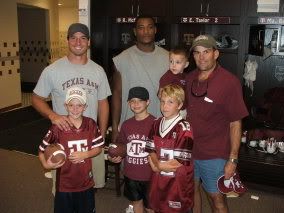 #19 Jaxson Appel, #1 Reggie McNeal, Big J, Uncle Jon, random kid, Cole, Garrett
Jaxson was super nice to take time out with these boys and show them around the locker room at Texas A&M. It doesn't hurt that they BTHOOSU, either!!