Well first the good news...I'm in a MUCH better mood and feeling MUCH better today, thanks to my steroid shot yesterday! WOOHOO! That's my kinda crack, baby!
My day started at McDonald's where I now have a new routine of buying a bag of ice for my ice chest every day.
Then I made my way to the make-shift Post Office at the outlet mall in La Marque. Even thought spotty mail service was beginning on the island, we couldn't be sure that we didn't have a stockpile at the PO. I waited in line for 2.5 hours. And I'll bet you can guess what I found out....the GHF mail was on the truck being delivered. AAARRRGH!! But, I did get my personal mail which consisted of a lot of junk mail and my Better Homes & Garden magazine. Yay me.
I met a really cool guy in line who is from Sea Isle on the West End of the island. He owns two Boston Whalers, and after hearing the fate of ours (badly bruised and landed in the Payco Marina yard) he gave me the name and number of a Whaler specialist in Seabrook. I immediately texted the info to Big L and he was thrilled.
One lady in line stated it very well....here, we are all equal. People from every age, race and economic status are in the same boat, waiting and waiting and waiting. Some of the older folks would make use of the very few benches along the way. We were talking about how nice it would be for some group to hand out water bottles or something. Then, on my way out at 12pm, I saw something very inspirational. A local church had set up tables and was handing out hot hamburgers for lunch for those stuck in line! This church gets high marks from me for sensing such a need and meeting it:
The Vineyard Clear Lake/
So I missed our staff meeting this morning, not realizing I wouldn't get to work until 12:30! I spent most of the day making a list of urgent bills so we can see how much money we need to scrape this week from donors. Fun fun! But, feeling better physically helps me deal with it soooo much better!
The big dilemma for Big L and i is now how to get the motorhome placed in Galveston over the weekend so the kids can start school at GISD on Tuesday when it opens. Unfortunately, there are still 2 boats in our street blocking us from driving to Bart's big parking lot/driveway at the end of our street. We're going to go check out the possibilites this weekend, and also try to salvage some of our wooden furniture from the second floor.
As usual, I'll leave you with some parting shots of Galveston today: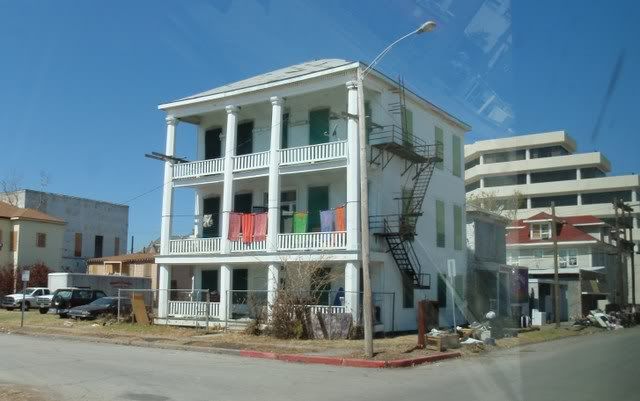 Hanging out the Laundry on Sealy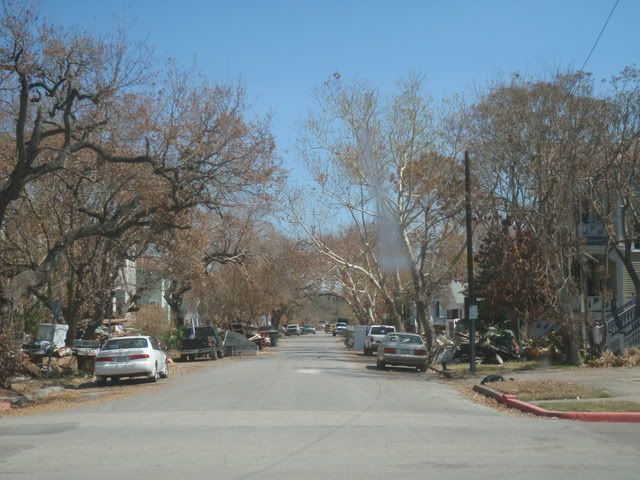 Winnie - notice all the brown, dead trees and foliage