So the time has finally come. After 2 weeks in my Brother-In-Law's driveway, we are headed back to G-town this weekend! The power is back up on our street, so we're all set for hooking up. We are so pumped!! Not that it hasn't been super nice here, but there's just no place like your own place. I may even get to have a beer on my own dock before the weekend is over....heaven! So before we relocate, let me show you how we've been set up for the past 2 weeks.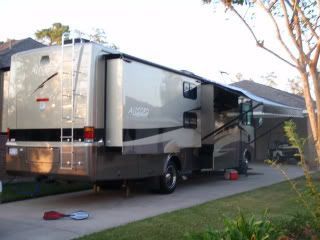 Our Rig!
And on top of re-locating to our own neighborhood, the kids will be starting back at their own school on Tuesday! They said goodbye to their new friends and teachers today. Knowing the Galveston rumor mill like I do, I'm sure at least one of you has heard something awful about the state of the schools in Galveston and how horrible it will be for the returning students. So, to clear the air and try and get actual facts out there to dispel all the rumors, here's some info I gleaned from a personal meeting with our Principal yesterday, and then emailed to our PTO email list:
I just finished meeting with Mr. Bouldin at Parker. I also met the
Burnett principal while I was there, as they will be joining us at
Parker. First of all, I toured the school and went to the library and
multiple classrooms. There is no evidence of damage anywhere,
although i'm sure there was some minor water somewhere. Everything
looks just as it was left on Wednesday. The library was untouched as
were all of the classrooms i went in. They are all being
professionally cleaned anyway. All of our copiers and computers are
fine and working as well. The Parker gym sustained major damage, but
it is detached from the regular building. We do not have a time
estimate as to when it will be functional again. Here's the rest of
what I found out while "interviewing" Mr. Bouldin:
1. Several school districts including HISD have loaned or donated
buses and ALL normal routes will be running next week!
2. Truckloads of supplies have been donated by other districts across
the state, so no one will need to purchase supplies (although all the
Parker student's supplies are right where they left them anyway)
3. The building has been treated and "fogged" for any potential mold
growth and the air quality is about 90% in the building. It smells
very fresh and clean!
4. If the city water is not drinkable by Tuesday, bottled water will
be provided to students and staff every day.
5. All students are eligible for free breakfast and lunch for the
first 2 weeks.
6. No uniforms for the first two weeks, and then it will be re-
evaluated.
7. All Parker teachers have said they are returning
8. All GISD staff will keep their jobs thru the end of the school
year.
9. Parents will be provided forms for free counseling for themselves
or their children on the first day back.
10. There is a Pep Rally at Spoor Field tomorrow at 10am
11. All bldgs at Parker are open this weekend for staff if they want
to work in their rooms.
12. YMCA will be providing daycare for GISD employees at the San
Jacinto building.
13. Moody and 1st Step daycares are both open and accepting students.
14. Palisade Palms on East Beach is offering short term leases on
housing...The Dawn condos are offering month-to-month leases.
15. Several soccer teams are regrouping and beginning practice next
week
And this, i thought, was some of the best news. On the first day,
former Parker students will go to their previous classrooms as usual.
Burnett students will meet their regular teachers in the cafeteria.
Their teachers will then escort them to their new class room where
they will join a group of Parker students & teacher and will be "team
taught" by both teachers. The student/teacher ratio should be
exceptional! All of the Parker teachers that Mr. Bouldin had spoken
with were anxious to get their hands on their students and show them
the love. They are excited about returning and seeing the students
and getting back to a "normal" routine.
On a personal note, I feel that if we care about the survival of our
island and our community we need to get back as soon as possible.
Businesses are re-opening every day and they need customers to
survive. Many have help-wanted signs in the windows, including Kroger
and Gaido's. If these businesses can't get enough customers to stay,
then they won't be there 6 months down the road. if we want our
community to rebuild and to survive this crisis, then we need to rally
and return as soon as it is feasible for each of our families and our
personal circumstances.
Thanks everyone! Hang in there and I hope to see you all again
soon....