We are so very blessed to have some great friends in NB who also have a family vacation house that they welcome us to each time we have to evacuate. The last time we stayed here was in 2005 during the Rita evac. And holy of holies...Shan has it equipped with wifi! She also had a link to a website that was simulcasting all 4 local Houston news stations at once, so i was in heaven. And the have 2 kids that have grown up with ours, so they all played and had fun with their two weren't in school. Speaking of school, ours had now completely forgotten that such an evil had ever existed!
By this time, Big L and I had made a couple of decisions. Mainly, that we would be purchasing an RV to live in while we rebuild our house. We knew we'd want to return to the island and get the kids back in their own schools as soon as possible, and we knew that due to flooding, housing would be short. So, on Monday, we started out looking at motorhomes at the many RV dealers in NB.
Meanwhile, back in Friendswood, things were deteriorating rapidly for Bart and his crew. Percy was getting more and more agitated and was jabbering non-stop with things like "where are we? how's the weather? Aw, Hayull!" and was also becoming more disoriented and combative. Bart's crew had had quite the BBQ while emptying out our friends' thawing freezer, and had made it fine physically up to this point, although they'd now been without power for a couple of days. It was becoming apparent that Percy needed medical attention.
I actually spent my first day in NB trying to secure a room at a nursing facility in NB for Percy so that Bart could come and stay with us. Bart's friends had since taken off to places with power, and after surveying the very minimal damage at his Dad's place, Bart's dad could not be pried out of his own home with a crowbar, power or not! So that just left Bart and Percy and Bart's cat, Miss Kitty. I finally met with a nursing home administrator and found out that Bart would have to take Percy to an emergency room first. So, Bart set out for NB with Percy, leaving Miss Kitty in a very pet-friendly house with lots of food and water. He didn't make it past Katy without having to stop a Memorial Hermann because of Percy's condition. Percy was admitted and Bart continued on towards our house in NB where he arrived at 1:30am or so on Tuesday morning.
Tuesday, September 16th
- One of Big L's clients is a premier restauranteur on the island, and he contacted Big L on Monday and offered us access to the island if we'd meet him at 7am on Tuesday morning. We of course jumped at the chance to see our house and assess the extent of the damage! Bart wanted to join us, even though we had to leave at 3:30am and he'd just arrived from the ER in Katy 2 hrs earlier.
We arrived just a wee bit late, but so was our contact so it all worked out. Turns out we were all distracted at 3:30am and took a wrong turn, leading us to Galveston via Austin. At any rate, we get in the miles long line and proceed to the first checkpoint, where we are rejected, much to the shock and surprise of our contact. We re-assemble and wait for another person with a "pass" to show up. We get in line and wait to try again. It's then that we hear on the radio that a "look and leave" policy will go into effect at 12pm. We arrive at the checkpoint at 11:59am and are allowed in with a big "LL" written in white shoe polish on our car.
There are not enough words in the English language to describe what we saw. Debris was everywhere, in many places causing the freeway to go down to one or two lanes. As we crossed the causeway onto the island, the first view is that of Payco Marina on the right. We live right behind it. Payco was a wasteland. Not a single structure of the offices, workshops, boat houses, etc. was left. And not one boat. Boat carcasses littered the highway along with heaps of other debris.
When we approached our neighborhood it looked like a war zone. At Clary's restaurant, the roof had caved in and there was a boat where the dining room used to be. When we turned on Blume to approach our house, the sight was the same on every lot. The bottoms of the houses were completed gutted at tattered and stripped down to the studs in many cases. When we turned to go down our street, we were immediately stopped by the piles of debris and boats all over the road. We could see two totalled trucks and large sections of piers from the marina laying up on the street, but we could not even see our house. There are only 7 houses on our dead-end street and you couldn't see past house #3.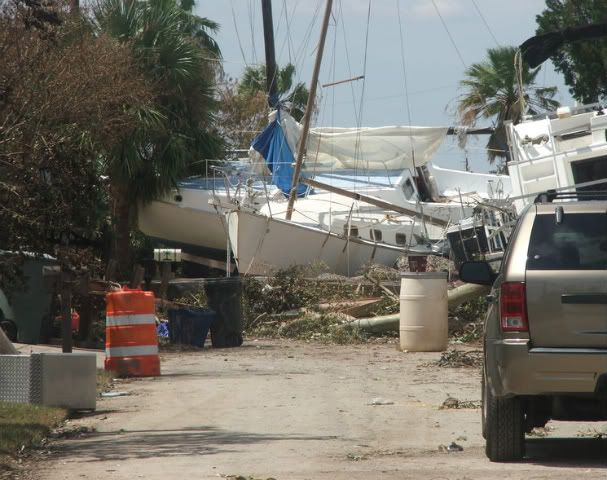 Looking Down our Street
We parked and starting walking slowly up the street in amazement. We passed two neighbors who were out cleaning up...they had ridden out the storm and were still there, living with no sewer, no water and no power. In fact, it turns out that Bart, us and the family on the other side of us were the only ones that left on our street! We found Bart's boat on the street on top of a pile of debris in front of house #3.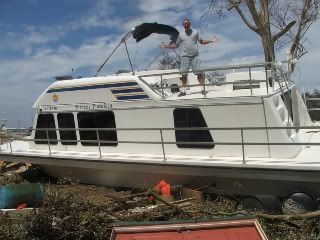 Bart and his boat
When we got to our houses we were shocked again. Everything from our downstairs was destroyed or gone. Our Master Bedroom had been downstairs, as we were planning on doing a major remodel and it was a temporary location for our bedroom. All my clothes and shoes were gone without a trace. Large pieces of furniture, like a desk, credenza, dresser, king sized poster bed and piano were all gone without a trace. All that remained were the remnants of walls, doors and window collapsed in a pile. The hot tub that had been on our back porch was now where our bedroom used to be.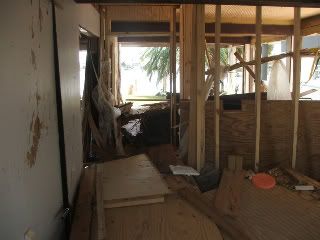 Looking in our Front Door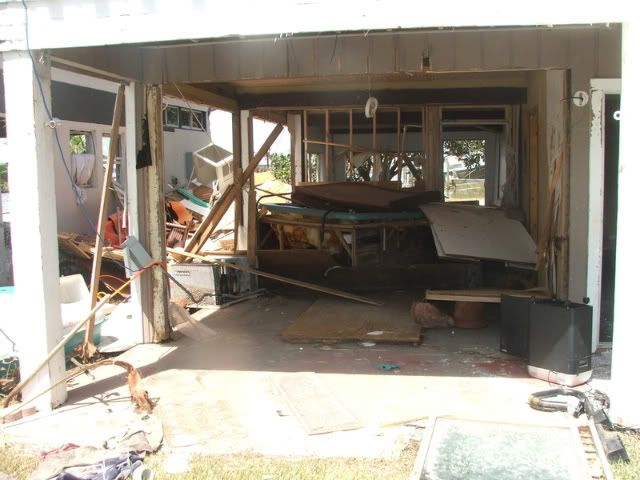 Looking in our Master Bedroom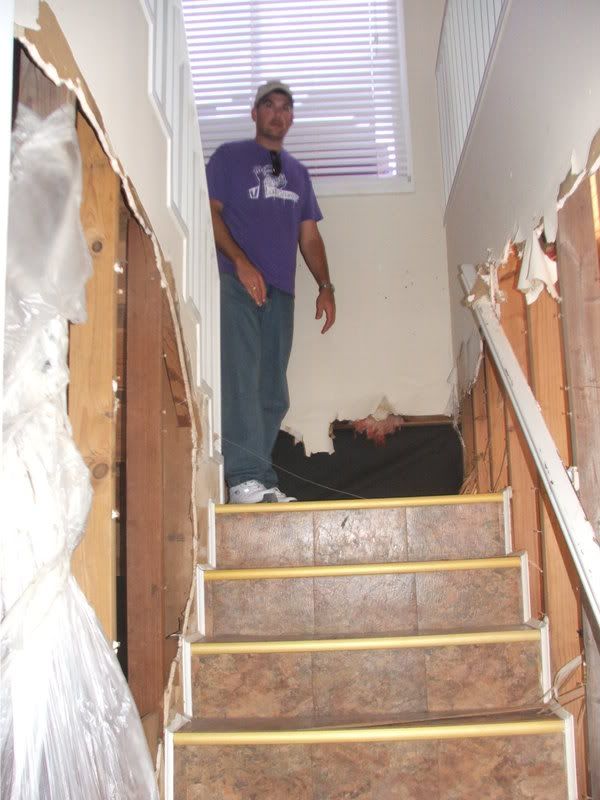 Looking up the stairs at the water level
We used trash bags to take out as much clothes from the 2nd floor as we possibly could and used some plastic bins we brought to box up more stuff for a second trip. We tried to gather essential items we wanted to salvage in one place in the upstairs for future trips. To get things out, we had to to go down our interior stairs, across piles of debris and out of the house, and then hike down the street to the truck, going around the debris field in the street. It was impossible to try and take anything that couldn't be carried by one person at a time.
We had to be out by 6pm, when we headed back to NB, the three of us. It had been an emotional and exhausting day to say the least, and we didn't get "home" until after 10pm.
to be continued with "Return to Work Wednesday"