Nearly three months after Hurricane Ike, Galveston's Dickens on the Strand street festival goes on
Island residents, struggling to regain their lives, welcome visitors
By Helen Anders
AMERICAN-STATESMAN STAFF
Sunday, December 07, 2008
GALVESTON — The ghost of Jacob Marley sported a wan smile as he shambled down the Strand on Saturday amid a few thousand visitors to the island's annual Dickens on the Strand street festival.
"It's sad in a way," said the ghost — actually playwright Timothy Evers of Houston, dressed, like many others, in a Charles Dickens-themed costume for the festival. He nodded toward the crowd, much thinner than the event's usual assemblage. "But it's good seeing this many people here, because this place has been just a ghost town."
"There are more people on the Strand today than in the last 89 days combined," said a broadly grinning Tom Schwenk, president of the Galveston Historical Foundation , which organizes the event. "I looked around this morning and said, 'We won.' "
It is, indeed, a dickens of a Christmas for Galveston, with costumed locals smiling gamely for visitors but not quite able to banish from their faces the strain of their struggle to regain their lives in the wake of Hurricane Ike.
Nearly three months after the storm, about a third of the city's residents still can't live in their homes. Three-fourths of the island's structures were damaged. Only the maternity ward is open at Galveston's one hospital, the University of Texas Medical Branch. Trauma patients have to be airlifted to Houston.
And in the Strand, where up to 12 feet of water coursed through stores on Sept. 13, only a handful of street-level businesses have reopened. Hardly any of the stores were insured.
"We didn't think we needed it," said Kristen Birkelbach, owner of Funky Monkey on the Strand, whose store was badly damaged and remains closed. "The Strand never floods."
On Saturday, she and her father, Roy Birkelbach, ran a vendor booth on the street, selling sock monkeys and decorative items.
The Strand did flood during Hurricane Ike, because the storm pushed water in from Galveston Bay. Birkelbach isn't sure she can reopen her store.
"I lost a lot," she said. "I'm just really struggling. But we'll see. I've already sold two picture frames today. It's really encouraging."
The two-day Dickens on the Strand, usually the island's biggest street festival of the year, going on into the night amid strings of lanterns, is seen by many Galvestonians as emblematic of their efforts to recover.
"The Strand really is the heartbeat of the community," said historical foundation executive director Dwayne Jones, who admits there's a lot of despair on the island right now.
This year's festival is scaled back. It closed at 6 p.m. Saturday and will again today because so few downtown buildings have electricity (power is restored, but many electrical systems were damaged by salt water), and the festival lanterns were damaged in the storm.
The city can't even make any money from parking; all the meters were destroyed by the flood.
The historical society, which reaps ticket money from the event, is hoping that by today's close, the festival will have attracted half of last year's 32,000 visitors.
"I hope they get more people. Right now, it's looking kind of sad," said Mecie Hardin, who drove down from Houston to attend the festival. "I think just that they put it on is a huge accomplishment."
The first Dickens on the Strand was staged 35 years ago to raise money to establish the downtown business district. This year, the intent is to bring that district back.
Nancy Kitchel, the historical foundation's comptroller, wore a Victorian costume she'd just purchased, because the one she'd worn in past years was destroyed when waves crashed through the first floor of her family's two-story home on Laguna de Oro, a few blocks from the bay.
After strolling through the festival with her family, Kitchel tallied receipts Saturday by the beam of a battery-operated lantern inside a Strand building without electricity.
The festival, she said, "is festive and happy, and the island needs it" — not just for the economy, but for morale.
That Kitchel was smiling was a testimony to that. Her family's Christmas tree is in the 35-foot motor home the family is living in. It's parked near their house, which they evacuated before the storm, never dreaming that it would be ripped apart.
"I put a few things on my bed, thinking we might get a few feet of water," she said. Instead, when she, her husband, Larry, and their two children returned, they found the bedroom walls in shreds. The bed was gone. So was her piano and a dresser, though its intact mirror rested in the backyard.
In the next room, Larry's office, was a kayak. It's still there. They have no idea whose it is.
But they had insurance, and they plan to rebuild in the same place, where they've lived for two years.
"Moving here (from Friends-
wood) was a dream come true," Kitchel said. "We love the island."
Kitchel's colleague Molly Dannenmaier, the historical society's marketing director, feels the same way. Her home, built in 1897 in the historic part of Galveston, survived the famous 1900 hurricane, and it survived this one.
"Structurally, it's absolutely fine," she says. But more than 2 feet of water flooded the first floor, which she'd just remodeled to accommodate her disabled mother. They're living in a rental property she and her family own that wasn't damaged.
Dannenmaier hasn't had time to get started on rehabilitating her house because she's been so busy working on the Dickens festival, but she said that's probably a good thing.
"If I weren't working," she said, "I can't imagine my state of mind."
Dickens on the Strand, she said, is a show of Galveston's spirit.
Galvestonians Josh and Donna Tall said that's exactly why they were attending the festival. "It's a sense of community," Donna Tall said. "That's the way Galveston's going to come back."
handers@statesman.com, 912-2590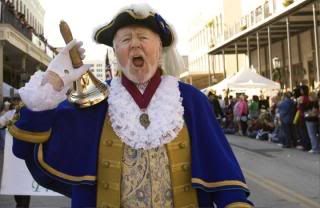 The official town crier in Sidney by the Sea, British Columbia, Kenny Podmore was well-suited – once he donned his Victorian-era garb – to lead the parade at Dickens on the Strand on Friday. Photo by Jay Janner - Austin American Statesman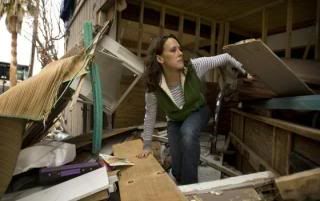 Nancy Kitchel, comptroller of the Galveston Historical Foundation, thought her home on Laguna de Oro would only see a few feet of water when Hurricane Ike struck. She and her family are planning to rebuild on the same spot. Photo by Jay Janner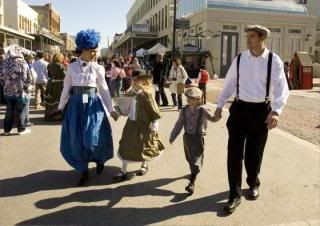 Nancy Kitchel – with daughter Emma, 8, son Jackson, 7, and husband Larry – lost a costume to Ike but bought a replacement to participate in this year's Dickens on the Strand. 'The island needs it,' she said of the festival, whose organizers hope to draw half as many attendees as last year. Photo by Jay Janner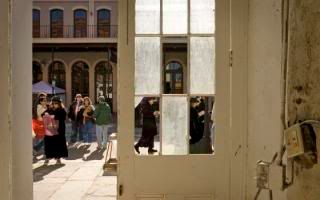 Nearly three-quarters of Galveston's buildings – like the historic Hendley Building on the Strand – were damaged by Ike, and salt water damaged many electrical systems on the island. Festival lanterns were soaked, and the city's parking meters were wiped out. Photo by Jay Janner
As copied from the
Austin American-Statesman