On this Veteran's Day, I'd like to take a moment to say Thank You to some very special Veterans in my life:
First of all, my Dad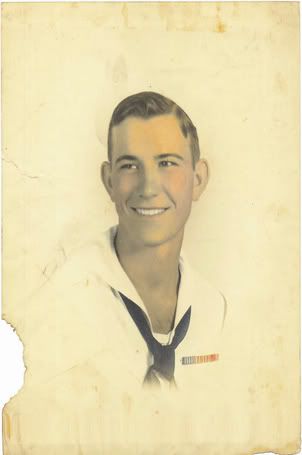 Fireman 1st Class, H.S. Shuman, who served in the Navy on Okinawa in World War II at the age of 17.
Next, my father-in-law
Wayne Kitchel, Army officer serving in Korea
Next, someone very dear to my heart who gave his life for our country on November 13, 2004 (more posts to follow this week)

Captain Sean Sims, US Army served in Iraq and Bosnia. Be sure to check out his wife's blog at
Learning to Live
Next, someone whom I've gotten to "know" after receiving a memorial bracelet with his name on it
Master Sgt. Kelly Hornbeck from Fort Worth, TX who gave his life for our country on January 18, 2004 in Iraq
Last, but most definitely not least, my niece's husband who is currently serving a second term in Iraq. Unfortunately, all my photos of Captain Jason Snelgrove, US Army in Iraq, are on the computer that crashed so instead I'll give you a link to his awesome blog,
There and Back Again
Have a wonderful Veteran's Day, and say a prayer today for the families of those who gave their lives for your freedom!!